About the Aussiedoodle: They are a highly intelligent, friendly dog, very family orientated, silly and love spending time with family. They are often used as service or therapy dogs. They love to play but can be just as content to lay at your feet. The Aussiedoodles are outstanding family pets who are extremely patient with even small children. They are sweet and outgoing animals who are accepting of other family pets. 
Compared to a Goldendoodle: Aussiedoodles lack a tail, which is nice for an indoor pet. Plus, the wiggly bum is pretty cute too.Hair is silkier, and in my opinion easier to groom. They reserve that I love you so much more for family than strangers. They also seem to lack a dog odor. 
Shedding is minimal to none. World of difference compared to a regular dog. With ours, we never noticed hair when petting or on the furniture. Just occasionally when sweeping our wood floors. 
Our Aussiedoodles typically range 30-45lbs, in the mini to medium range. However, we have had a few reach outside the 45lb range. Currently we are only breeding for F1 Aussiedoodles.
Aussiedoodles come with utd shots (neo par for various parvo strands at 4 weeks, kennel cough, 5 way series begins at age 6 weeks & kept current), wormed, ear mite prevention, dew claws removed, tails docked, vet checked, health guarantee, champion pedigrees.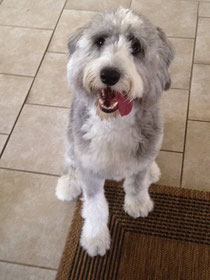 Grown silver/sable Aussiedoodle from our lines